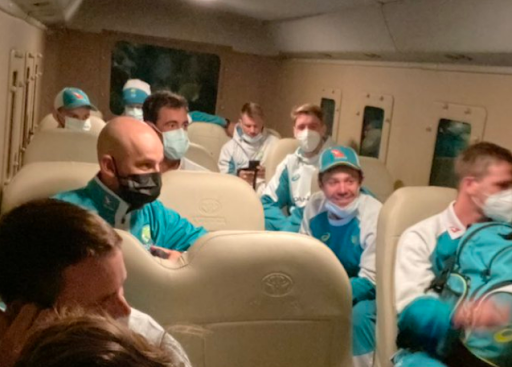 Australia's cricket team returns to Pakistan for a historic match after over 20 years
Australia's cricket team returns to Pakistan for a historic match after over 20 years
2 March 2022
Author 77baji
Members of the 18-man squad selected for Australia's first visit to Pakistan in 24 years arrived in Islamabad early Sunday morning on a chartered plane.

After touching down in Islamabad, Pakistan's capital, senior batsman Steve Smith shared a photo on his social media account of the 35-strong Australia tour group inside their charter flight's cabin.

The previous time Australia participated in cricket in Pakistan was in 1998. They won the three-match Test series 1-0 and swept the 3 ODIs.

Vice-captain Steve Smith, Usman Khawaja, Ashton Agar, and Mitchell Swepson, all of whom were born in Islamabad, expressed their enthusiasm for the three-Test series that begins on Friday.

This trip marks Pat Cummins' first foreign Tests since taking over as skipper. It is also the start of the post-Justin Langer era following the coach's departure earlier this month.

For the Test series, which shifts to Karachi and then Lahore for the second and third matches, as well as the three ODIs and lone T20I in Rawalpindi, Andrew McDonald is heading the team on an interim basis.

After a suicide bombing at a church in Lahore five years ago, Australia cancelled its tour. Since an attack by Islamist extremists on the Sri Lanka team bus in Lahore in 2009, international teams have mainly avoided Pakistan. For more than six years, Pakistan's national teams were compelled to play home matches outside of the country due to the tragedy.

New Zealand's limited-overs tour to Pakistan was called off in September last year. This is because of security concerns just before the toss in the opening one-day international at Rawalpindi. Following New Zealand's lead, England cancelled its short tour of Pakistan just before the T20 World Cup in October.

The decisions infuriated Pakistan cricket officials. They believed they had done everything necessary to secure the well-being and security of their players and were disappointed by the call.

New Zealand, nonetheless, will resume its trip to Pakistan this year. The kiwis will be playing 10 white-ball matches in April 2023.