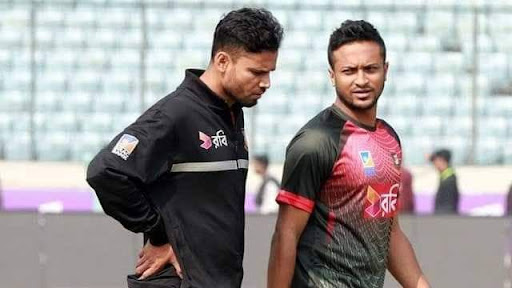 Change is not possible overnight, allow Shakib more time: Mashrafe
Change is not possible overnight, allow Shakib more time: Mashrafe
4 July 2022
Author 77baji
Tigers Test captain Shakib Al Hasan has regained his captaincy against the West Indies, who relinquished the captaincy after playing against the West Indies. He did not have a happy start in the third phase, and the Tigers have been whitewashed in white-jersey cricket against the Windies. After the loss in St. Lucia, Shakib said that one has to focus on winning Tests on home soil before winning abroad.

Former Bangladesh cricket captain Mashrafe bin Murtaza has expressed solidarity with Shakib's statement. "I totally agree," Mash told reporters on Tuesday. In ODI cricket, too, that's how we changed. Our first plan was how we could win 80 percent of the matches at home." he added.

"We started in Test cricket too, and we defeated England-Australia. They created a problem with getting back a little bit from that place. But we have to win most of the matches at home now, and we have to go ahead with that plan," Mashrafe said.

"We were not very good at Test cricket. Sometimes we won some Tests at home, and we were going to improve, but suddenly it went down a little bit again. In Test cricket, we have never been consistent, and we are consistent in one format ― one-day cricket. We have been playing consistently well in ODIs since 2015 ....," Mashrafe said.

Mashrafe added: "If we play at home, the chances of a draw will be less because the chances of a draw are reduced if we play at a spin wicket. So we have to win the match. I think Shakib is thinking very aggressively, which is positive."

Mashrafe has full confidence in Shakib, who is experienced as a Test captain. No change is possible overnight, so the former captain is in favour of giving time to Shakib. "The positive thing about Test cricket is that Shakib is a very experienced cricketer and has a very experienced cricketing brain. Shakib is now the captain. But change is not possible overnight," Mashrafe said.

Mash added: "Shakib has said something. For example, how he looks at the team, what he expects from any player in the future, and how he wants to organise the team. I think Shakib is the best person to handle these. He has to be given time, and he will be able to overcome it again."