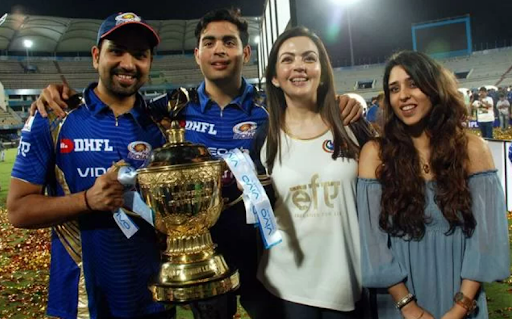 Club Owner Nita Ambani has full faith in the Mumbai Indians
Club Owner Nita Ambani has full faith in the Mumbai Indians
12 Apirl2022
Author 77baji
Mumbai Indians (MI) have had a terrible start to the IPL 2022 season, losing all four matches so far. They've faced a similar predicament three times since the IPL's beginning, and each time they've won the championship.

On paper, the team appears to be very powerful, and the players have the ability to make it big, but things aren't going their way right now. After the squad's fourth consecutive loss of the season, franchise owner Nita Ambani sent a voice note to the players to motivate them.

She said that she has complete faith and trust in all of them, and she is confident that MI will succeed. It is only going to go upwards from here on out. She added that they must believe in themselves and their ability to overcome this obstacle. They have been through this before, and each time they have gone on to win the Cup.

Ambani also mentioned that she has complete faith and confidence that if the team remain together, if they stand by each other, they will overcome this, and she will see them on the other side. Until then, they have her complete support in anything they choose to do. Please have faith in one another and in themselves. Continue to have faith. And the Mumbai Indians are always here to back them up.

MI have lost 4 wickets against Delhi Capitals and 23 runs against Rajasthan Royals. They also got defeated by Kolkata Knight Riders by 5 wickets and Royal Challengers Bangalore by 7 wickets. Rohit Sharma's team hasn't had the best of starts. Considering that the group was going through a hard patch, Nita Ambani's message was meant to give them hope.

MI is not the only side suffering through a bad patch. Their main competitor, Chennai Super Kings, has also struggled to stay up in the league, losing all of their encounters so far. MI and CSK are currently ranked ninth and tenth in the points standings, respectively.