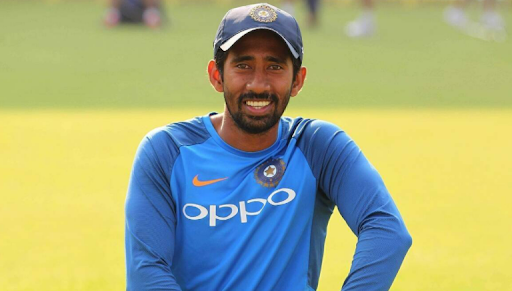 Everyone demands the journalist's name that threatened Wriddhiman Saha
Everyone demands the journalist's name that threatened Wriddhiman Saha
25 February 2022
Author 77baji
The newest issue in Indian cricket revolves around a slew of WhatsApp messages supposedly sent by a journalist to Wriddhiman Saha, the Bengal wicketkeeper who was left out of Team India for the Test series against Sri Lanka.

Saha tweeted a screenshot of communication from "a respected journalist" demanding an exclusive interview. Before taking any action, the BCCI will ask the cricketer to identify the identity of the anonymous person.

Former cricketers have shown their solidarity with Saha and encouraged him to divulge the journalist's identity. Former India spinner Pragyan Ojha commented that they will ensure that this so-called journalist is boycotted by our cricket society.

Harabhajan Singh, a former off-spinner, stated that Saha should simply name the guy so that the cricket community is aware of who operates in this manner. Otherwise, even the nice people will be suspected.

Former coach Ravi Shastri commented that it is disturbing to see a player being threatened by a journalist. This happens too often to Team India and the BCCI should jump in and take control as this is a serious issue.

Saha, who is always cool and unflustered, came out firing on Saturday after being left out of the lineup. He informed the media that several of Chief Selector Chetan Sharma's words at the press conference following the selection committee meeting startled him.

After both coach Rahul Dravid and Sharma told him that his international days were ended, Saha's withdrawal from the first round of Bengal's Ranji games was misinterpreted as him losing enthusiasm. The wicketkeeper, on the other hand, disputed such a proposal, claiming that the withdrawal was due to personal concerns, as his wife had recently recovered from a battle of dengue fever.

After his courageous 61 against Sri Lanka in Kanpur, Saha stated that Ganguly texted him and said as long as he is here in the BCCI, Saha will be included in the roster. Saha commented that he felt confident receiving that text and he is figuring out how things can shift so quickly.

Snehasish Ganguly, secretary of the Cricket Association of Bengal (CAB), said Saha should not have publicly commented on a private discussion between him and the committee or the BCCI. He also stated that Saha should have competed in the Ranji Trophy's first round.