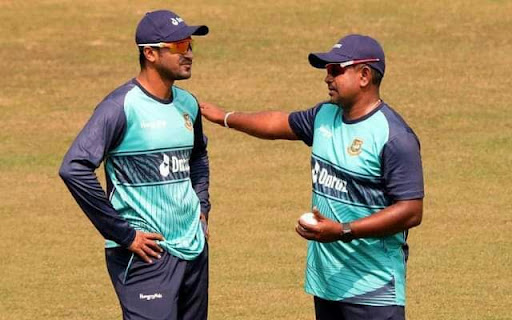 Herath's special advice to Shakib for the future
Herath's special advice to Shakib for the future
15 June 2022
Author 77baji
Without any practice, playing Tests after six long months, such an extraordinary performance may be possible only for Shakib Al Hasan. After returning from the United States, Shakib joined the squad for the Lanka tour after tested Covid negative. On that day, he only practiced batting for a while but did not deliver a single ball in the practice. Before the series, Shakib bowled 105.1 overs in two Tests without doing much fitness training.

Rangana Herath, the spin bowling coach of the Bangladesh national cricket team, reminded Shakib to focus on fitness for the future, even though there is no shortage of performance. Speaking to reporters at the end of the first day of the four-day training camp, which started with 32 spinners, Herath said of Shakib, " He is a very experienced cricketer. Always meets expectations. He just has to think about his fitness. He can go a long way if he can keep fit. "

The cricketers are now on vacation after the tour of Sri Lanka. But the Caribbean series is ahead. Bangladesh will fly to the West Indies in the first week of June to play the full series. "Even if the spinners don't have to do much in the conditions of the Windies, they can perform if the mentality is right," said Herath. " You have to learn to take responsibility. There could be grass wickets, there could be lifeless batting wickets, wicket could be helpful for the spinners. Whatever the wicket, you have to understand the situation and condition and keep your strength in the right place. "

However, Team Bangladesh is not getting a spin bowling coach in this challenge of the Caribbean tour. Herath has taken leave from the upcoming series. However, the Sri Lankan legend said that even if he is not with the team, it will not be a problem. "We talked to the spinners very well," he said. " I also talked to other coaches. I am sure other coaches will take good care of the spinners in this series, " he added.