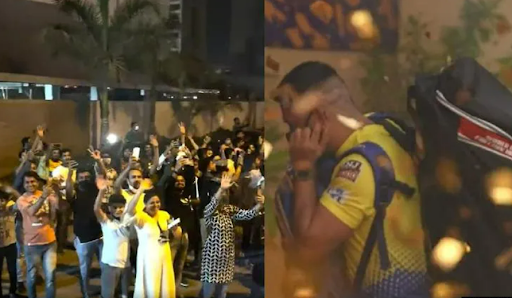 MS Dhoni Receives Warm Reception from fans in Surat ahead of the IPL 2022
MS Dhoni Receives Warm Reception from fans in Surat ahead of the IPL 2022
8 March 2022
Author 77baji
MS Dhoni has repeatedly demonstrated that he is India's greatest cricketing superstar. Despite retiring from international cricket, Dhoni's popularity remains high. Dhoni, who is 40 years old, will once again captain Chennai Super Kings in the upcoming IPL season. CSK decided to begin their training in Surat after Maharashtra was picked as the host for the Indian Premier League(IPL).

After the team arrived in Surat, fans surrounded the CSK bus and chanted "Dhoni, Dhoni." Dhoni waved to fans as he exited the CSK van, which prompted the greatest applause.

As the leader of the pack, Dhoni would once again be the key to CSK's success.

Meanwhile, the IPL 2022 schedule was published on Sunday, and it came as no surprise that the 2021 finalists, CSK and KKR, will open the tournament.

In a press release, BCCI secretary Jay Shah stated that in total, 70 league games and four playoff matches will be played over the course of 65 days.

The IPL, according to former India coach Sanjay Bangar, has democratised cricket and is the IPL's most significant contribution to the sport.

Additionally, former India captain Sunil Gavaskar commented that IPL has aided in the development of "brand loyalty" among supporters, which is unusual in India. The brand loyalty that has built among the fans is another essential component of the IPL. A CSK fan will always support the CSK squad, regardless of whether the team changes and the same can be said for RCB, KKR, MI, and all the other teams, which is, in his opinion, another great feature of the IPL.

The competition will feature 12 double-headers, with the first match beginning at 3.30 p.m. and the evening bouts beginning at 7.30 p.m.

The opening game of the double header will take place on March 27 at the Brabourne stadium (CCI), with the Delhi Capitals taking on the five-time champion Mumbai Indians.