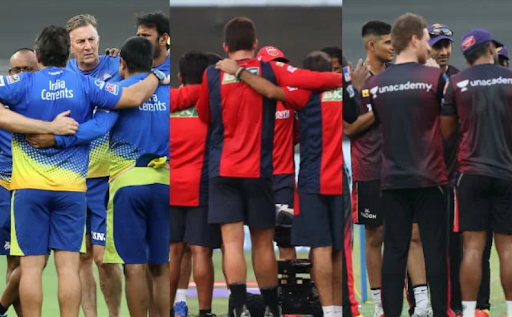 IPL: Prediction of top overseas player for the CSK
IPL: Prediction of top overseas player for the CSK
4 March 2022
Author 77baji
After their disappointing Test performances in the last two years, Cheteshwar Pujara and Ajinkya Rahane have been relegated from a 'A' contract to a 'B' contract. Virat Kohli, Rohit Sharma, and Jasprit Bumrah have retained their A+ annual contracts. Still, Shikhar Dhawan, Ishant Sharma, Hardik Pandya, Pujara and Rahane have been demoted from the 'A' contract.

Dhawan has been moved to the C contract category because he only plays one format of ODIs, while Hardik has been missing games owing to fitness difficulties and has now joined him. Meanwhile, Bhuvneshwar Kumar, Wriddhiman Saha, Umesh Yadav, and Mayank Agarwal have been demoted from B to C contracts for not meeting expectations. In contrast, Shreyas Iyer, Mohammad Siraj, and Axar Patel have been promoted to B.

Kuldeep Yadav, who was signed to an annual 'C' contract last year, was not signed this year, and his lack of game time may have played a role in his omission. Grade A+ players are paid INR 7 crores, while Grade A, B, and C players are given INR 5 crores, INR 3 crores, and INR 1 crore, respectively.

List of India cricketer annual contracts
The players' annual contracts have been finalized, and Suryakumar Yadav has signed his first BCCI deal.

A+ contract – Virat Kohli, Rohit Sharma, Jasprit Bumrah
A contract – KL Rahul, Rishabh Pant, Ravindra Jadeja, Mohammad Shami, Ravichandran Ashwin
B contract – Axar Patel, Shreyas Iyer, Cheteshwar Pujara, Ajinkya Rahane, Shardul Thakur, Mohammad Siraj, Ishant Sharma
C contract – Hardik Pandya, Deepak Chahar, Shubman Gill, Shikhar Dhawan, Umesh Yadav, Suryakumar Yadav, Bhuvneshwar Kumar, Washington Sundar, Hanuma Vihari, Yuvendra Chahal, Wriddhiman Saha, Mayank Agarwal
Pujara, Rahane, Ishant, and Saha were all ordered to play Ranji Trophy instead of the next Test series against Sri Lanka to restore form. In three innings for Mumbai, Rahane has a century and a half-century, while Pujara has only a half-century in three innings for Saurashtra. It remains to be seen if they can reclaim their place in the Indian squad, which is not likely.