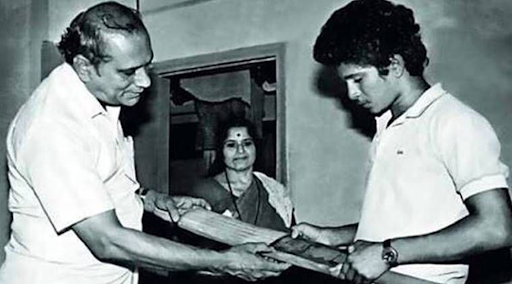 Sachin Tendulkar gets emotional sitting on his father's bed
Sachin Tendulkar gets emotional sitting on his father's bed
24 June 2022
Author 77baji
He lost his father in 1999. During the World Cup, Sachin got the news that his father was no more. Little Master returned to India in the middle of the World Cup to perform his last rites. After returning to the World Cup, he played an unbeaten inning of 140 against Kenya. He looked for his father in the sky after scoring a century. That image of Sachin's centenary celebrations later became a trademark. Every time he has scored a century in his career, he has looked for his father by looking at the sky. Tendulkar has passed 23 years after losing his father. However, he still remembers his father in the same way.

That is what came up on Sachin's social media on Father's Day. Master Blaster shared multiple moments spent with his father. The caption of the video reads, "The first hero of all children is his father. I was no different from them. I still remember what he taught me. I remember how his love helped me to find my way. Happy Father's Day to all."

Sachin shared the video on social media. "My father always told me not to take shortcuts. Prepare yourself and never lower your price. " Tendulkar's mother said in the video, "He never imposed his will on Tendulkar. He always did what he liked. "

Then in the video, Sachin was seen sitting on a swing, "It was used as a bed. My dad used to sit here. My mom told me you can make it a cradle. It's very old but special to me. "

Before Father's Day, Sachin shared an old photo with his daughter Sara Tendulkar through social media. In the caption of Sara's childhood photo, he wrote, "This photo is the sum of all my happiness. " Everyone from Sourav Ganguly to Suresh Raina has praised him in the commentary of the photo. Sara has also commented. It is to be mentioned that Tendulkar retired from international cricket on November 14, 2013.