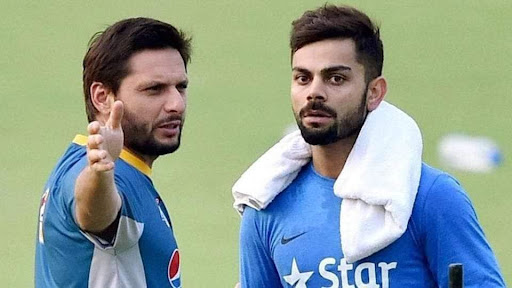 Shahid Afridi criticizes Virat Kohli
Shahid Afridi criticizes Virat Kohli
21 June 2022
Author 77baji
Former Pakistan cricketers are often seen commenting on Indian cricket or cricketers. As the India-Pakistan match spreads excitement in 22 yards, so does off it the field. A few days ago, former Pakistan fast bowler Shoaib Akhtar, who is known as the Rawalpindi Express, praised Indian cricket poster boy Virat Kohli. However, this time his country's former teammate Shahid Afridi harshly criticized Kohli.

Despite being out of form for some time, Kohli is still considered by many to be one of the best batsmen in the world. He has taken modern cricket to another level with his cricketing skills. Despite going through bad times, his popularity has not waned, rather has increased. Former Pakistan all-rounder Afridi sharply criticized him in this situation. He also raised questions about his mentality.

"The mentality is very important in cricket," Afridi said in a recent interview. "I always talk about it. Do you have a good attitude towards cricket or not? The former Virat Kohli always wanted to be the number one batsman in the world. Is he still playing cricket with the same motivation? This is the biggest question. He has class. But does he really want to be number one in the world? Does he think that he has got everything in life? So now he is relaxing and spending time? It all depends on the mentality, " he added.

The last century came from Kohli's willow in 2019. He played hundreds of innings in two years but did not score a century. Cricket analysts have advised him to take rest. The board recently sent him to rest for the South Africa series. Kohli has visited Maldives using the advantage of the rest. This time he is packing his bag for the tour of England with the team. Will King Kohli be seen in known rhythm in England tour. The answer will be given in time.