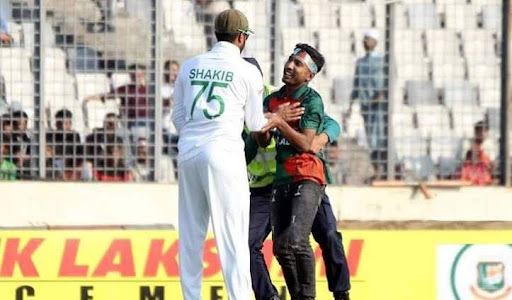 Shakib fans enter the field to touch Shakib
Shakib fans enter the field to touch Shakib
19 February 2023
Author 77baji
The number of fans of cricket field star Shakib Al Hasan is not less all over the world. From time to time, fans love their favorite players in different ways. Many people do nothing to get their favorite star! This time, a fan entered the field to see Shakib touching the Mirpur Sher Bangla National Stadium. The fan is in trouble for doing such an incident during the game. Violation of security may also result in penalties.

Bangladesh was fielding in the ongoing test match against India. Shakib stands at mid-wicket. But in the meantime, a fan broke through the security fence. In the blink of an eye, the teenager reached the Tiger captain. He saluted his favorite player by his feet and hugged him to his chest. However, by that time the security personnel entered the field and took him out of the field. Shakib also fulfilled the expectations of the fans. It is often seen that the world's best all-rounder does not indulge in such emotions on the field. But this time he was also seen differently. He grabbed the feet of the devotee who was saluting and pulled him to his chest. Such love for Shakib is not the first time. His fans have shown love in different ways by entering the field several times before.

Not only Shakib, but many other cricketers of Bangladesh have been seen showing such love in the past. There are examples of fans of Mashrafe Bin Mortaza, Mustafizur Rahman, Mushfiqur Rahim entering the field in domestic league and international matches. The three main cricket venues of Bangladesh have witnessed such events. Spectators broke this security in Dhaka, Chittagong and Sylhet.

Meanwhile, due to the repetition of the same incident, questions have been raised about the security measures of the Bangladesh Cricket Board (BCB). Because if something else is hidden behind love, there may be accidents. Although the BCB has always said that they will take action. But when and how that system is being done, there is no benefit. The question remains. But this time, there is a glimpse that the Shakib fan who caused the same incident may get severe punishment.