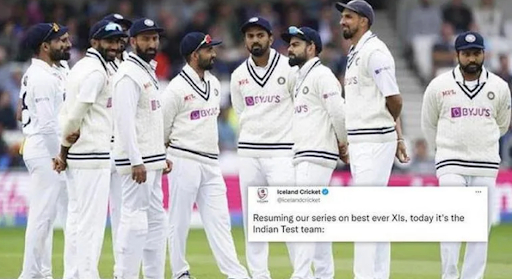 Virat Kohli is at almost the bottom of the list for India Test XI
Virat Kohli is at almost the bottom of the list for India Test XI
14 Apirl2022
Author 77baji
Virat Kohli, the former Indian captain, is undoubtedly the finest Test batsman of his generation and would easily fit into any starting XI. However, much to everyone's surprise, Kohli was left out of Iceland Cricket's all-time India Test XI. As a result, it did not sit well with Indian supporters, who launched a full-fledged Twitter attack against Iceland Cricket.
Iceland Cricket has long been renowned for making amusing comments on social media about cricket. However, on Wednesday, April 13, its Twitter handle enraged cricket fans by naming former skipper Virat Kohli as the 12th member in their all-time Test XI for India. Regardless of having MS Dhoni and Kapil Dev in the XI, Iceland cricket has picked veteran Rahul Dravid to captain the team.
The following is their post on Twitter: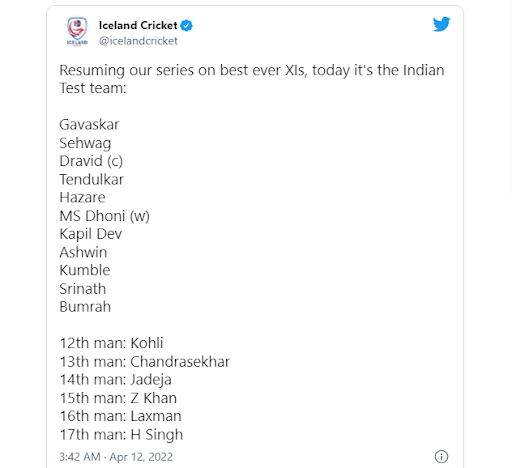 However, Kohli's exclusion from the starting XI enraged fans, who turned to the comments section of the page to condemn Iceland Cricket. Here's how Twitter users reacted to Iceland Cricket's message.



In the longest version of the sport, Kohli has played 101 Tests and scored 8043 runs at an average of 49.95 with 27 centuries and 28 half-centuries. The 33-year-old is also India's sixth highest run scorer in Tests, hence his selection as the 12th man is surprising.
The popular batter is presently featuring in Royal Challengers Bangalore(RCB) in the 15th edition of the Indian Premier League (IPL). On April 12, the Red Army lost their previous match against the reigning champions Chennai Super Kings(CSK). Kohli was removed for one run off three deliveries after failing to make his bat talk in the match.