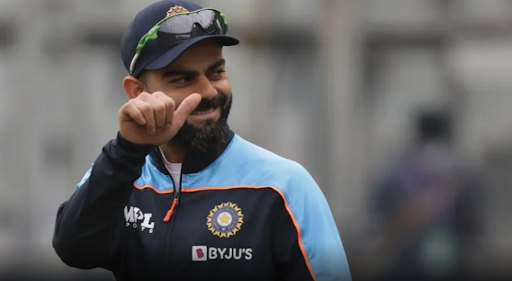 Virat Kohli's proud moment of 100th Test for India
Virat Kohli's proud moment of 100th Test for India
7 March 2022
Author 77baji
On Friday, former captain Virat Kohli will play his 100th Test for India. Only 11 of his compatriots have ever been able to do so. Here are some snippets from his pre-match interview with BCCI.tv.

Regarding the milestone 100th Test, Kohli stated never saw himself playing in 100 Test matches. It's been a long and winding road. He is just thankful that he has made it to 100. He said God has made kind to him. It's a significant day for him, his family, and his coach, who is overjoyed and proud of this Test.

Kohli remarked that his first Test hundred, he believes, is one of his fondest memories. His memory of that is still vivid. Knowing it comes from Australia will make it even more special. It was an overseas hundred, and as a young man trying to make a name for himself in Test cricket, the fact that it was his first hundred in Australia gave him a lot of confidence.

The former captain commented that it wasn't by coincidence that Test cricket was played under his leadership as the Indian team, or that he went about playing Test cricket and how he thought and wanted to play Test cricket. He has put forth a lot of work to ensure that the game's essential moral principles, such as the desire to play Test cricket and the preservation of the game's purest form, remain intact. They needed to play in a specific way for that to happen. He has poured his heart and soul into this project. It feels terrific to make a greater contribution to his environment and culture than just methods and plans for getting batsmen out and manoeuvring bowlers. He added that If one has a greater impact on one's environment, it is a source of pride and something to be grateful for because this opportunity comes along just once in a lifetime.

Regarding his stint as India's Test captain, he said that in the previous few years, he has had the honour and chance to construct a culture that he believes he has established as a leader. He has performed his duties to the best of his abilities and has met his obligations. That time in his life is one of his proudest memories. He has had the pleasure of playing alongside some incredible teammates, including some of the individuals who have accompanied him on this road for the majority of his Test matches.

Kohli remembers having this vision for the squad when he took over as Test captain, that they needed to play a specific type of cricket and be a certain type of team in international cricket, and they ended up accomplishing that, five years in a row. He is really proud of the fantastic experience and to be a part of the achievement.

Regarding playing 100 Tests for his country, Kohli said that it felt very surreal. He has never envisaged himself playing for India in 100 Tests. There was a period when he promised himself that he would do everything in his power to play for India. Nothing could demotivate or divert his attention anymore. He was dead set on reaching the top and staying there for a long time. The events unfolded in such a way that the voyage continued.

Kohli added that life is unpredictable in many lovely ways, and he doesn't believe people should limit themselves to how many incredible experiences they can witness in the future. One has no clue what the future has in store for you. It's better not to get too worked up about what might not happen since his career, his life is an example of what can be done.