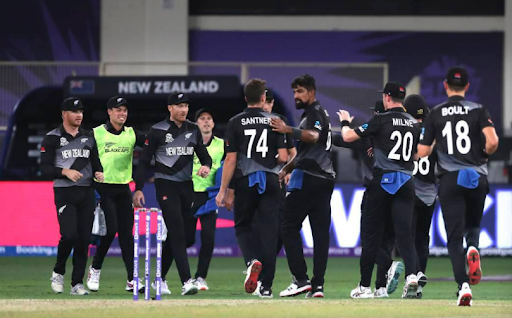 The Black Caps thrash the men in Blue by 8 wickets in Dubai
The Black Caps thrash the men in Blue by 8 wickets in Dubai
November 2, 2021
Author 77baji
On Sunday, Team India lost by eight wickets to New Zealand in an ICC T20 World Cup Super 12 encounter, thereby ruining their chances of reaching the semi-finals. In their crucial match, the men in blue could only manage a below-par 110/7, as the Kiwis chased down a target of 111 with 33 balls to spare. New Zealand's best scorer was opener Daryl Mitchell, who hit 49 off 35 balls, while captain Kane Williamson hit an incredible 33.

The Kohli-led team had lost wickets at frequent intervals after being put in to bat by New Zealand captain Kane Williamson, and they failed to pose any genuine danger to a disciplined Kiwi intrusion. Ish Sodhi, a leg-break bowler, and Mitchell Santner, a left-arm spinner, bowled 2/17 and 0/15 respectively from their four-over quotas. Trent Boult, the pacesetter, finished with 3/20.

Kane Williamson has a unique way of finishing a game. The ball appeared to be big, thrown on his leg, and begging to be hit. It would have been really easy to pull a Dhoni, swing the ball over the cow's corner, and make a deal with a six. Not Williamson, who pushed India to the brink of WorldT20 elimination by nudging Shardul Thakur's 'poor' ball to deep square and walking to the non-striker end. The job is done, two points are in the bag, and the game is back on the right path. Williamson may not buy Dhoni's turbo push to the finale, but after crossing it, he seems to have a blank expression on his face. The finish may be understated, but an over before Williamson hit the game-winning shot would have left spectators and analysts scratching their heads in astonishment.

Virat Kohli removed his cap, rubbed his head, and tousled his hair just after Kane Williamson hit the game-winning run. The expression he wore throughout the evening - when he sat in the dugout after being dismissed when he saw India's batting crumble, and now at the conclusion of the match. On the ground, he tried to collect a throw at the non-end striker's a few minutes before the end, and the ball smashed into his knee. He struggled and hobbled back to his fielding position. It was one of those nights when nothing he did worked. The new batting order hadn't worked out. It would have been another thing if they had attempted to hit and getaway, but it was more of an odd meandering. The intention wasn't evident; they weren't "brave enough," in Kohli's words. There were 54 dot balls in a T20 over; nine overs of emptiness, surely that wasn't the idea. He took a leg-break from outside off to wide long-on, instead of the usual way of going over the covers. The majority of his top-order batsmen blew apart. MS Dhoni eventually joined Ravi Shastri onto the pitch to shake hands with New Zealand players as he walked away.