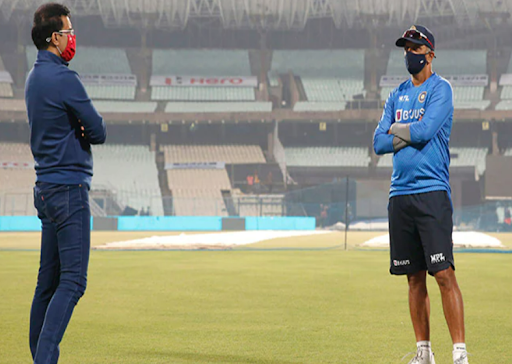 Two high-profile coaches from Indian cricket meet in Kolkata
Two high-profile coaches from Indian cricket meet in Kolkata
17 February 2022
Author 77baji
On the eve of India vs West Indies 1st T20I, Sourav Ganguly and Rahul Dravid met at Kolkata's iconic Eden Gardens. On Tuesday, the Board of Control for Cricket in India (BCCI) shared a photograph of Ganguly, the BCCI president, and Dravid, the current head coach of Team India, on social media.

Ganguly and Dravid have a lengthy history together. Ganguly and Dravid have been a part of some of the most significant moments in Indian cricket, from battling against each other in youth cricket to making their Test debuts in the same Test match and then captaining India under each other's leadership.

To put Ganguly and Dravid's relationship in context, the former left-hander has played 424 games for India, with Dravid appearing in 369 of them, accounting for nearly 90% of his international career.

There has been a lot of Ganguly and Dravid companionship at Eden Gardens as well. The pair has played eight Tests and two ODIs together at the same stadium, which will host India's three-match T20I series against the West Indies, which begins on Wednesday. All three games are set to take place on this turf.

In the three-match ODI series, India thrashed the West Indies, but they will have greater competition in the T20Is from the visitors, who have consistently been one of the strongest teams in the format of the sport.

In the few months leading up to the T20 World Cup, India is looking to have a very busy white ball itinerary. They'll first play Sri Lanka in 3 Twenty20 Internationals. After that, followed by a Test series. As a result, captain Rohit Sharma wants to "identify" players and provide the team a fair chance.

Sharma commented that the goal is to discover players who will compete in the World Cup and provide them with game experience. He added that a large number of players are injured and they have no idea who will be fit and who will not be fit for the World Cup.