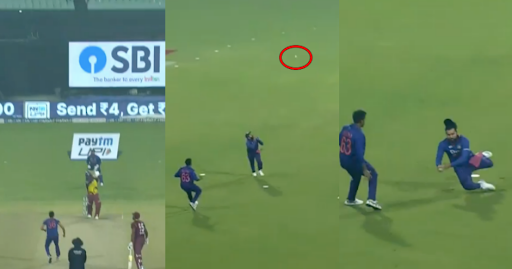 Captain Rohit Sharma Makes a Breathtaking Leap Catch
Captain Rohit Sharma Makes a Breathtaking Leap Catch
18 February 2022
Author 77baji
On Wednesday, Indian white-ball skipper Rohit Sharma took a fantastic catch to eliminate all-rounder Odean Smith in the first T20I of the three-match T20I series against West Indies.

Rohit Sharma took a sensational catch in the penultimate ball of the first innings, which was bowled by pacer Harshal Patel, to assist the pacer pick up his second wicket.

Odean Smith attempted to loft an off-paced delivery from Harshal Patel in the 6th ball of the 20th over, but he only succeeded to get it off the toe end of the bat.

The ball was heading towards mid-off, where Rohit Sharma and Suryakumar Yadav were sprinting to catch it. Sharma took a stunning catch over his right shoulder with arms parallel to the ground as he sprinted sideways from extra cover.

Bhuvneshwar Kumar scored the first point for India in the opening over. Brandon King was out in the fifth ball of the first over. The second over was delivered by Deepak Chahar, who conceded 8 runs. West Indies batsmen scored 6,7,10, and 9 runs in the next four overs, putting them at 44/1 at the end of the powerplay.

In the fifth ball of the seventh over, Yuzvendra Chahal dismissed Kyle Mayers. Mayers had hit 31 runs off 24 balls, including seven fours. In the next three overs, Indian bowlers gave up 20 runs.

In the 11th over of the West Indies innings, debutant Ravi Bishnoi bowled a 2-wicket over. Roston Chase, who scored 4 runs off 10 balls, and Rovman Powell, who scored 2 runs off 3 balls, were both dismissed by him. Also, West Indies lost Akeal Hosein in the fifth ball of the 14th over, and they were 96/5 at the end of the 15th over.

The West Indies' 16th and 17th overs proved to be crucial, as hitters Nicholas Pooran and Kieron Pollard added 29 runs in two overs. Harshal Patel gave up 10 runs in the 18th over but took a crucial wicket of Nicholas Pooran. In the end, West Indies batted first and scored 157 runs for the cost of seven wickets.