Article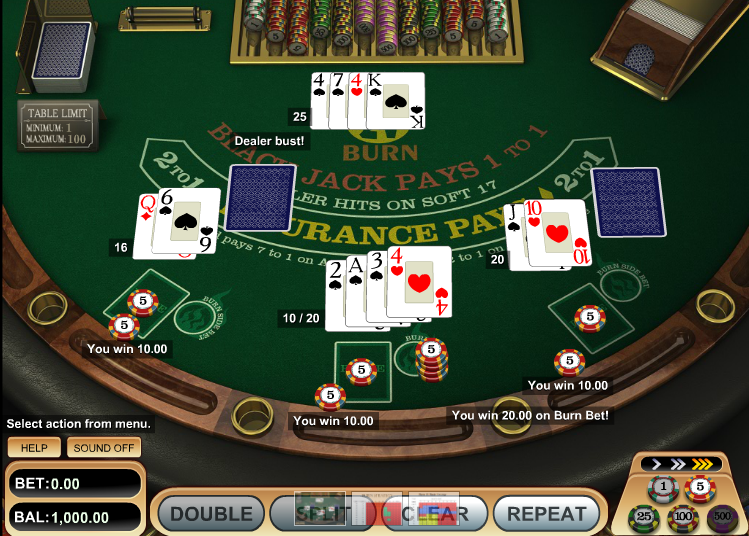 How to Play 21 Burn Blackjack
How to Play 21 Burn Blackjack
July 02, 2021
Author 77baji
Burning 21 Blackjack is similar to traditional blackjack, except that the player may burn his second card in exchange for a random card. To burn, the gambler must place a Burn wager equivalent to half of his original stake. Blackjacks also only pay even money.

Rules of Burning 21 Blackjack

Play with six deck card
Dealer will hit a soft 17
For blackjack, the dealer peers at the hole card. This occurs before the player is allowed to play his cards. If the dealer has an ace up, the player can make an insurance wager, much like in traditional blackjack.
A blackjack win pays out at even money.
Any two cards, including those split, can be doubled by the player.
A player can only split once.
No surrender
The player may make the Burn bet after seeing his initial hand and the dealer upcard. The burn bet must be exactly half of the first bet. The player's second card will be burned and replaced with a random card if he places the Burn bet.
The Burn bet's paytable is displayed below.
After burning a card, an ace and a ten are classified as blackjack.
After separating, the player cannot burn.
Pay Table

BURN CARD

PAYS

Ace of spades

7 to 1

All other aces

2 to 1

All other cards

Loss
The strategy of Burning 21 Blackjack
By alone, the burn wager is highly negative. Before factoring any benefit to the blackjack wager, the gambler may anticipate losing 67.31% of whatever he bets on it. Given that the Burn wager requires the player to bet half of his original bet, the Burn option should only be used when the player stands to increase the value of his blackjack wager by 67.31% x 50%= 33.65%. The following technique demonstrates when the value of burning is more than 33.65% and when the player should use the burn option.
If the 1st card is a 7, the 2nd card is an 8/9, and the dealer upcard is a 7, you must burn the hand.
If the 1st card is an 8/9/10/ace, burn according to the table below.
In all other circumstances, do not burn.