Article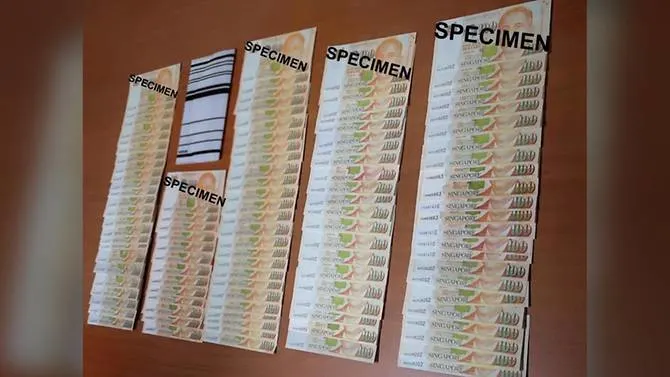 3 Singapore man allegedly used counterfeit S$100 bill to purchase a lottery ticket
3 Singapore man allegedly used counterfeit S$100 bill to purchase a lottery ticket
July 19, 2021
Author 77baji
On Tuesday, the police stated that three males are being investigated for allegedly forging or using counterfeit S$100 notes.

On July 4, police got a tip that a man had allegedly used a counterfeit S$100 note to buy a lottery ticket on Ubi Road.

Officers from the Commercial Affairs Department apprehended a 63-year-old man for allegedly passing a counterfeit S$100 note off as genuine after conducting investigations.

He was also allegedly found with another counterfeit S$100 note and drug-related paraphernalia. Currently, the individual is supporting the police with their investigations.

The police said they responded to information and detained two additional males, ages 27 and 44, for their alleged involvement in forging S$100 notes earlier that day.

A total of S$17,500 in counterfeit S$100 picture series notes was also seized.

According to the police, the 44-year-old man will be charged with forging or counterfeiting currency or banknotes in court on Wednesday, while the 27-year-old man is still cooperating with the investigation.

The police also stated that anyone found criminally involved in the counterfeit currency will be prosecuted.

Forgers or counterfeiters of currency or banknotes and those who use counterfeit currency notes as genuine risk up to 20 years of prison and a fine.

Having forged or counterfeit currency or banknotes is punishable by up to 15 years in prison. A fine while creating or possessing devices or materials for forging or counterfeiting money or banknotes is punishable by up to 20 years of prison and a fine.

Members of the public should be aware of receiving possible counterfeit notes, according to the police.

Anyone who receives a suspected counterfeit money note should immediately notify the authorities and write down the report of the person who presented the fake note and any other identifying information such as the type of vehicle utilized and its registration number.

To prevent further tampering, public members should handle the suspected counterfeit note with care and place it in an envelope or folded paper, before handing it over to the police.