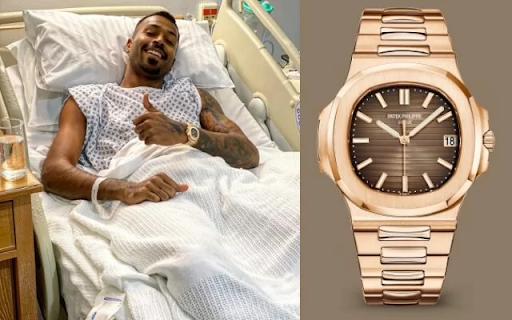 Hardik Pandya INR 5 crore worth luxury watches seized by custom officials
Hardik Pandya INR 5 crore worth luxury watches seized by custom officials
November 16, 2021
Author 77baji
Hardik Pandya, who hasn't had the best of recent on-field fortunes, found himself in hot water off the field when customs officials confiscated two costly watches worth over INR 5 crore upon his return to India from the UAE following the completion of the T20 World Cup 2021.

The event occurred late November 14 night, as the team members arrived home. Officials halted Pandya, who had neither declared the watches as custom products nor had the invoices for each of them. Both watches were ultimately seized.

Pandya, an enthusiastic watch collector, owns Patek Phillippe Nautilus Platinum 5711, one of the world's rarest and most known brands.

The 5711 is forged entirely in platinum, with the 40mm case and integrated bracelet made of the most exotic metals. The watch is wholly constructed of platinum, with both the 40mm case and the integrated band made of the most exotic metals. It features 32 baguette-cut emeralds, all factory sets. The limited-edition sculpture is also "reserved for the most discerning customers."

Between November 17 and December 7, the Indian team will host T20 World Cup runners-up New Zealand for three T20Is and two Tests. The 16-man team for the three T20Is was published earlier this week by the Chetan Sharma-led national selection committee, with Pandya's name absent.

While the committee did not give a reason for his exclusion, specific stories claim that it was due to fitness difficulties. For the better part of this year, Pandya has been unable to bowl due to a recurring back injury.

At the 2021 T20 World Cup, he only bowled twice in five games, with India's campaign ending in the Super12s after early losses to Pakistan and New Zealand dented their chances. Despite three consecutive victories, the team lost the qualification race in their group to New Zealand.