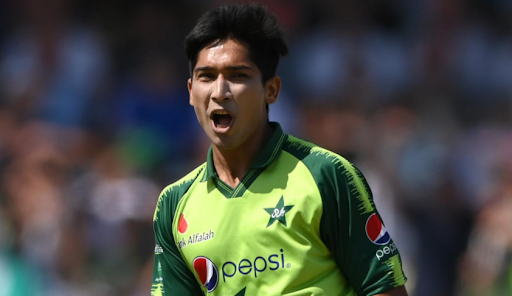 Mohammad Hasnain sets a new record in Australia
Mohammad Hasnain sets a new record in Australia
December 23, 2021
Author 77baji
Mohammad Hasnain, a 21-year-old Pakistani fast, has smashed pace records in both Pakistan and the Caribbean, and now he's on his way to Australia, where he'll cause chaos with the Sydney Thunder this summer.

On Monday, Hasnain was announced as the Thunder's newest addition. He is also the youngest bowler to take a hat-trick in a T20I match.

Ben Cutting was just one of the few of the Thunder's bowling prospects. Cutting first met Hasnain last year. They met while playing for the Quetta Gladiators of the Pakistan Super League.

Hasnain earned the record for fastest delivery in both that competition and the Caribbean Super League the year before.

Cutting predicted that Australian batsmen would struggle to keep up with the youngster's lightning speed. He stated that Hasnain bowls quick and he reckons his rate is at around 150km/h. Cutting added that he is a nice young cricketer, and his home squad is looking forward to him mastering the sport, get here and bowl in that same manner.

Cutting also said that Hasnain would fit in easily with the Australian environment and love it. He explained that they have faster pitches and larger boundaries, which are significantly more suited to fast bowling than the settings in Pakistan. He commented that he is confident that Hasnain will have a great time, and believes he will be a great addition to the Sydney Thunder team.

Hasnain's Big Bash appearance could give Australian batters a chance to get a feel for his bowling style ahead of Australia's multi-format visit to Pakistan.

The trip, which will take place in March and April, will be Australia's first since 1998.

Hasnain's signing comes only one day after another Thunder international addition, Saqib Mahmood, made his BBL debut at the Gabba on Sunday night, taking four wickets.

While his compatriots struggled at Adelaide Oval, Mahmood tore through some of the Heat's most dangerous batsmen, including Chris Lynn, Ben Duckett, and Sam Heazlett, all of whom went for single figures.

Mahmood told the media that he was anxious leading up to that, as he is with any new team, but he simply stuck to his guns out there. He added that things were great that it worked out.

Hasnain will look to continue his good run in the Sydney Smash on Boxing Day against cross-town rivals the Sixers.