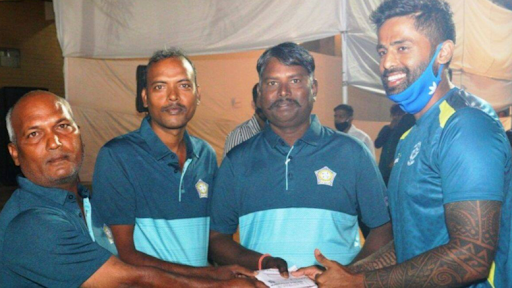 Suryakumar Yadav appreciates local groundsmen with cash reward
Suryakumar Yadav appreciates local groundsmen with cash reward
December 28, 2021
Author 77baji
Suryakumar Yadav, an Indian batsman, opted to give away his man of the match award to a local groundsman following the conclusion of the local cricket event, Police Shield.

Yadav scored 259 runs in 152 balls for his team Parsee Gymkhana in the three-day Police Shield final versus Payyade Sports Club at the Police Gymkhana field in Mumbai. After the game, Yadav commented about how the ground staff's involvement is always overlooked.

Yadav told the Indian Express that he believes that is something them as cricketers constantly overlook.

He stated that the labour that groundskeepers put in is rarely acknowledged and they are the first to arrive on the field at 6:30am in morning to prepare the ground and clear dew. He added that these efforts are dear to his heart since, when he first began playing cricket, he recalled rolling the field with groundsmen and his peers whenever he had to bat at the nets.

It's an activity that every cricketer goes through in their early days in the sport, not only Yadav. Yadav recalled his own obligations as a child while he was helping out, noting that the labour required to repair nets gave him an appreciation for the effort they put in.

The Mumbai Indians player told the media that each player, in his opinion, should remember their contribution and give them credits to every match. He said that they prepare pitches for us and ensure that they are on the right route to advance their careers.

Despite playing for India, Yadav is one of the few Mumbai cricketers who shows up to play local cricket in the Mumbai maidans.

With the Indian selection for the ODI series in South Africa still to be announced, Yadav decided to play in the three-day finals for his club Parsee Gymkhana.

The 31-year-old also stated that he enjoys playing for his local club whenever he is available.

He commented that he often says to his teammates to never forget their roots, to never forget where it all began.

Yadav still misses the ambience he could only experience at a local club after all these years. That is why, rather than having a nets practise, he likes to play those matches. The banter, criticism, and sledging have all helped him acquire the tougher skin and mentality he needs to improve as a batsman.