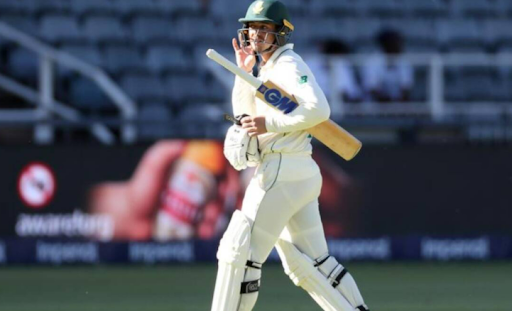 Quinton de Kock retires from Test cricket to spend time with wife and first-born.
Quinton de Kock retires from Test cricket to spend time with wife and first-born.
January 3, 2022
Author 77baji
Quinton de Kock, the South African wicketkeeper-batsman, announced his retirement from Test cricket on Thursday. The news comes after South Africa was defeated by India in the first Test match in Centurion. India triumphed by 113 runs to take a 1-0 lead in the three-match series.

De Kock made his Test first appearance against Australia back in 2014. He has 3300 runs at an average of 38.82 and a strike rate of 70.93 in 54 matches, with the top score of 141 not out. The 29-year-old batter also successfully achieved six centuries and 22 half-centuries.

He has 232 dismissals behind the wickets. This includes 221 catches and 11 stumpings. De Kock also holds a personal best of six dismissals in an innings, which he achieved against England in Centurion in 2019. The South-African batter collected 48 catches in 11 games in the inaugural ICC World Test Championship.

De Kock, by the way, began 2021 as South Africa's temporary Test captain and retired from the sport at the conclusion of the year.

The Southpaw disclosed in a statement that he wants to spend more time with his growing family and hence took the decision to withdraw from the sport early. In the next days, he and his wife, Sasha, are expecting the arrival of their first-born kid.

De Kock stated that this has not been an easy decision for him to make. He has spent a lot of time thinking about his future and what needs to take precedence in his life now that Sasha and he are ready to welcome their first child into the world and plan to expand their family. He said that his family means the world to him, and he wants to be able to spend as much time as possible with them as they embark on this new phase of their journey.

He also remarked that he enjoys Test cricket and everything that comes with it, as well as representing his nation. He loved the highs and lows, the joys and sorrows, and even the disappointments, but now he has discovered something even better. He commented that one can purchase practically everything in life but time, and right now, it's time to take care of the people that matter most to him.

He would like to take this opportunity to express my gratitude to everyone who has supported him throughout his Test cricket career. He couldn't have performed as well as he did without the help of his coaches, teammates, management teams, and family and friends.

He added that will not be the end of my Proteas career. De Kock said that he is still totally committed to white ball cricket and hopes to represent South Africa to the best of his capability in the near future.

He concluded with wishing the best to his team and colleagues in the remaining Test series against India and he will see them in the ODIs and T20s.