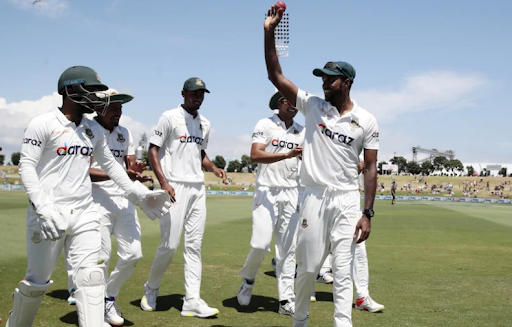 Bangladesh's first-ever test victory in New Zealand
Bangladesh's first-ever test victory in New Zealand
January 7, 2022
Author 77baji
Bangladesh defeated top team New Zealand by eight wickets in Mount Maunganui on Wednesday. The visitors only needed 40 runs in their second innings to secure the memorable victory. This was Bangladesh's first win in New Zealand. Additionally, it was also only their sixth in 61 Tests away from home. Ebadot Hossain took a career best six for 46 on his last day. New Zealand was bowled out for 169 in their second innings.

The result was a "David and Goliath" scenario. Thus far Bangladesh rated ninth in the world and while New Zealand ranked second.

This was also the Kiwis' first defeat in their own backyard in 16 Tests in the last four years.

Looking at the previous record, Bangladesh had lost all 32 games hosted in New Zealand, including 9 Tests. They arrived to begin this tour on the heels of consecutive defeats to Pakistan at home.

The Bangladeshi batsmen have mainly dominated this Test. The only hiccup was a 138-run second-wicket partnership by Devon Conway and Will Young in New Zealand's first innings.

Mominul Haque (88) guided Bangladesh to 478, a 130-run lead. It occurred on a surface that remained true and without the normal bias towards fast bowlers observed on New Zealand pitches.

Then, thanks to bowling coach Ottis Gibson's astute analysis of the game, Bangladesh defeated New Zealand in their second innings in just 73.4 overs.

Gibson had observed that the Bay Oval wicket was not producing slip catches. This happens frequently in New Zealand conditions. He remarked this for wicket-to-wicket bowling.

Gibson stated that it is not like New Zealand's bowling style; they didn't bowl to length and instead went short, that's their strategy, and it's working for them. He commented that Neil Wagner is a master at it, but they are different; they try to bowl at the stumps a lot more, and it's gratifying to see that it is paying off. He added that perhaps the batsmen from New Zealand misjudged them and they have demonstrated incredible discipline.