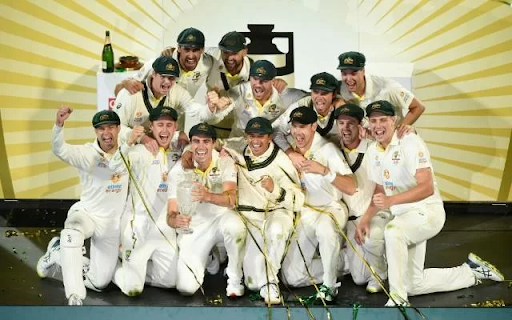 Australia claims top spot in ICC Test Rankings while India slips to 3rd position
Australia claims top spot in ICC Test Rankings while India slips to 3rd position
January 20, 2022
Author 77baji
Australia has risen to the Test rankings after thrashing England 4-0 at home in the Ashes. Meanwhile, India has slipped to third place after losing the three-match Test series to South Africa by 2-1. After winning the boxing day Test in Centurion, India took a 2-0 lead in the series. South Africa staged a comeback in Johannesburg and won the second game by eight wickets. In the last game, the Dean Elgar-led side triumphed by seven wickets, maintaining their perfect series record against India at home.

On the other hand, Australia dominated the five-match series. At the Gabba, they crushed Joe Root's side by nine wickets. They went on to win the second game, which was a day-night match, by a massive 275 runs. After leading by 82 runs after the first innings, debutant Scott Boland's stats of 7/6 ensured his side triumphed by an innings and 14 runs in the Boxing Day Test. The three lions managed to tie for the first time in the fourth game, with one wicket remaining. In Hobart, regular service was resumed as Australia defeated England by 146 runs in three days.

After their win over India, the Proteas have risen to fifth place, while Pakistan has dropped to sixth place. New Zealand is ranked second, while Sri Lanka, the West Indies, Bangladesh, Zimbabwe, Afghanistan, and Ireland have all maintained their positions. These teams are now ranked 7th, 9th, 9th, 10th, 11th, and 12th.

The next Test assignment for Australia will be a three-match series against Pakistan. If the tour goes forwards, it will be the first time an Australian team has visited Pakistan since 1998. On the other side, India will host a two-match series against Sri Lanka at home. In the World Test Championship, the 2019-21 finalists are ranked fifth with four wins, three defeats, and two draws in ten games for a win percentage of 49.07. On the other hand, Australia is comfortably in second place with four victories, one draw in five games, and an 86.66% victory rate.