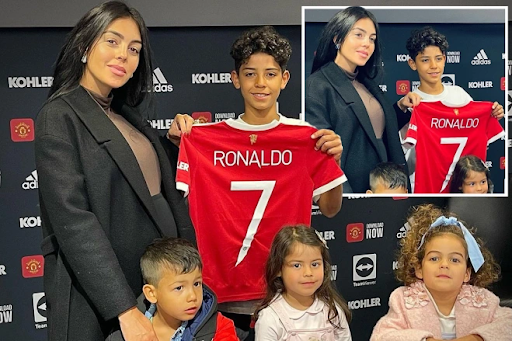 Cristiano Ronaldo Jr. signs for Manchester United and handed Cristiano Ronaldo's iconic jersey
Cristiano Ronaldo Jr. signs for Manchester United and handed Cristiano Ronaldo's iconic jersey
February 14, 2022
Author 77baji
Cristiano Ronaldo Jr., the 11-year-old son of Manchester United superstar Cristiano Ronaldo, is a well-known football fans. The Portuguese striker has frequently shared photos and videos of himself working with his youngster on social media.

Many people expect Junior to follow in his father's footsteps, and it appears that this will happen. Ronaldo Jr. has signed with Manchester United and will now wear the iconic 'Ronaldo 7' jersey his father made famous.

During the summer transfer window, Manchester United signed Cristiano Ronaldo for €15.00 million from Juventus. United's popularity soared due to the deal, and they profited handsomely from marketing.

Furthermore, Cristiano did precisely what was expected of him on the field: he scored goals. In 26 appearances for the Red Devils, the five-time Ballon d'Or winner had 14 goals. The Portuguese talisman came to the United's rescue multiple times, delivering game-winning goals and late equalizers. On the other hand, Cristiano has failed to score in his last five games, his longest goal drought since 2010.

Cristiano Ronaldo and his entire family relocated to Manchester. Ronaldo Jr. has gotten a lot of attention since many people want to know if he will follow in his father's footsteps. On the other hand, Cristiano has stated on numerous occasions that he does not want to put any pressure on his kid to play football and that as a proud father, he will accept whatever he chooses to do in the future.

However, it appears like history is about to repeat itself, as Ronaldo Jr. seems to have entered the football world. The 11-year-old has previously represented Real Madrid and Juventus' youth squads, and his achievements in both leagues have not gone unnoticed. He has lately signed with Manchester United and will now be a youth team member. Gabriel, a Brazilian wonderkid who had inked a deal with the Red Devils, was also introduced alongside the young Portuguese. Cristiano Jr. is expected to wear the iconic No. 7 jersey, while Gabriel will wear the No. 10 jersey.